"More than 90 percent of women and 97 percent of men do not meet recommended intakes for dietary fiber," according to the Dietary Guidelines for Americans.
Odds are, you're not getting enough of this important nutrient.
Why does it matter, and what can you do about it?
This article will give you a quick rundown of the benefits of fiber to get you motivated, a visual chart of low-carb, high-fiber foods to eat (get ready to screenshot!), and an easy guide to how much of this nutrient you should be eating each day.

What are the health benefits of fiber?
Lowers your risk of heart disease, diabetes, and certain types of cancer
Can help reduce cholesterol and control blood sugar levels
Helps fight chronic disease related to diet, overweight, and obesity
Relieves constipation and supports bowel health
Aids in achieving and maintaining a healthy weight
Fiber is considered a nutrient of public health concern for underconsumption. Increasing your intake can have a powerful positive effect on your short and long-term health.
List of high-fiber keto foods
The best way to eat more fiber is to be aware of the foods that contain it and mindfully work these products into our eating patterns.
This takes some extra effort on a low-carb diet because many fiber-rich foods are also high in carbohydrates (beans, lentils, fresh and dried fruits, and whole grains).
To make it easy, here's a chart of low-carb, keto-friendly foods that are also good sources of fiber. Always have these healthy staples on hand and you'll naturally eat more fiber every day.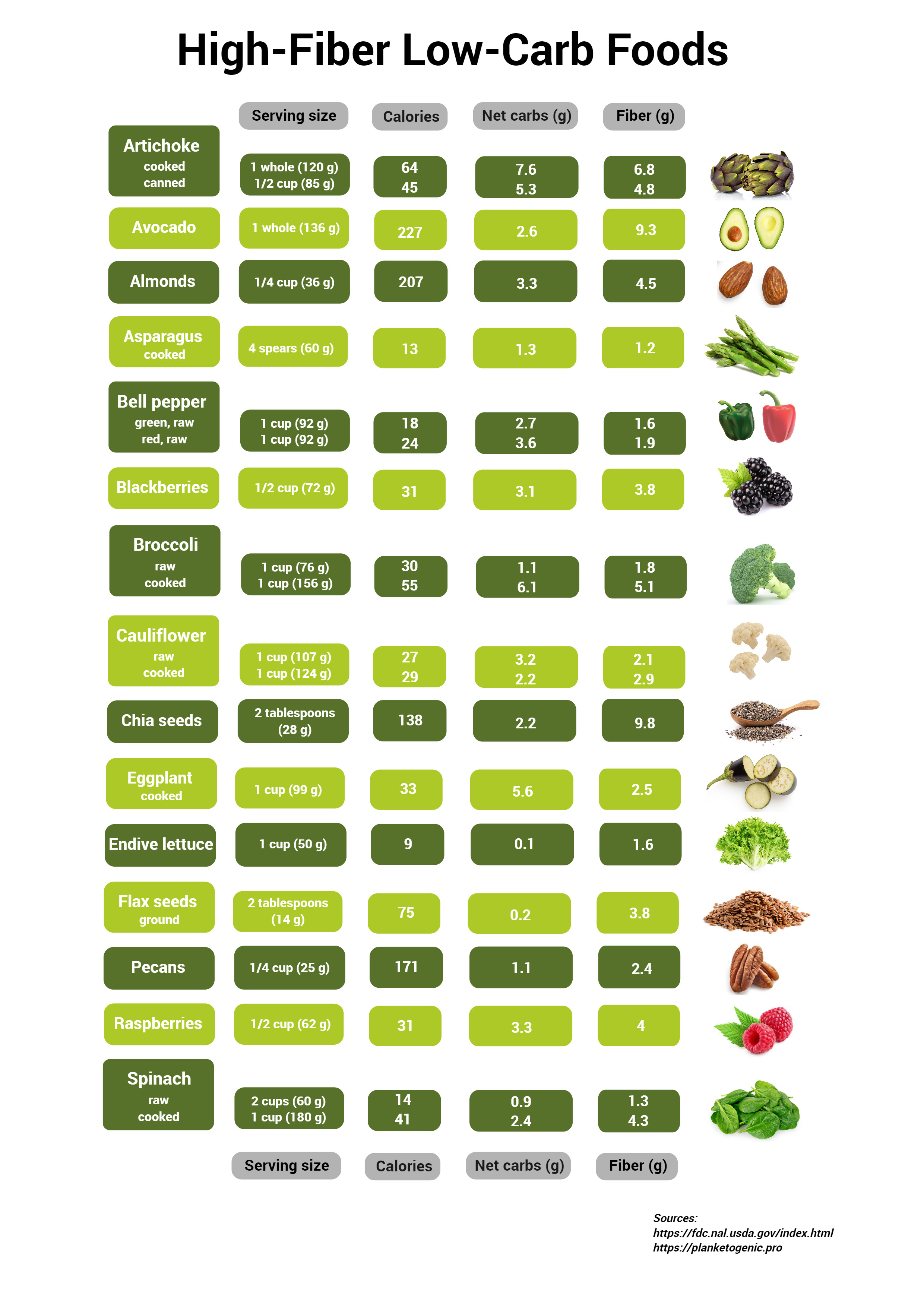 High-Fiber Low-Carb Foods
FOOD
Serving size
Calories (kcal)
Net carbs (g)
Fiber (g)
Artichokes
cooked
canned

1 whole (120 g)
1/2 cup (85 g)

64
45

7.6
5.3

6.8
4.8
Avocado
raw
1 fruit (136 g)
227
2.6
9.3
Almonds
¼ cup (36 g)
207
3.3
4.5
Asparagus
cooked
4 spears (60 g)
13
1.3
1.2
Bell pepper
green, raw
red, raw

1 cup (92 g)
1 cup (92 g)

18
24

2.7
3.6

1.6
1.9
Broccoli
raw
cooked

1 cup (76 g)
1 cup (156 g)

30
55

1.1
6.1

1.8
5.1
Cauliflower
raw
cooked

1 cup (107 g)
1 cup (124 g)

27
29

3.2
2.2

2.1
2.9
Blackberries
raw
½ cup (72 g)
31
3.1
3.8
Chia seeds
2 tablespoons (28 g)
138
2.2
9.8
Eggplant
cooked
1 cup (99 g)
33
5.6
2.5
Endive lettuce
raw
1 cup (50 g)
9
0.1
1.6
Flax seeds
ground
2 tablespoons (14 g)
75
0.2
3.8
Pecans
¼ cup (25 g)
171
1.1
2.4
Raspberries
raw
½ cup (62 g)
32
3.3
4
Spinach
raw
cooked

2 cups (60 g)
1 cup (180 g)

14
41

0.9
2.4

1.3
4.3
Source: USDA Nutrition Database
How much fiber do you need for keto?
The recommended daily intake of fiber is 14 grams per 1,000 calories that you eat. Since your number of recommended daily calories depends on your age and gender, so does your fiber amount.
See chart below to check how much fiber you should get each day.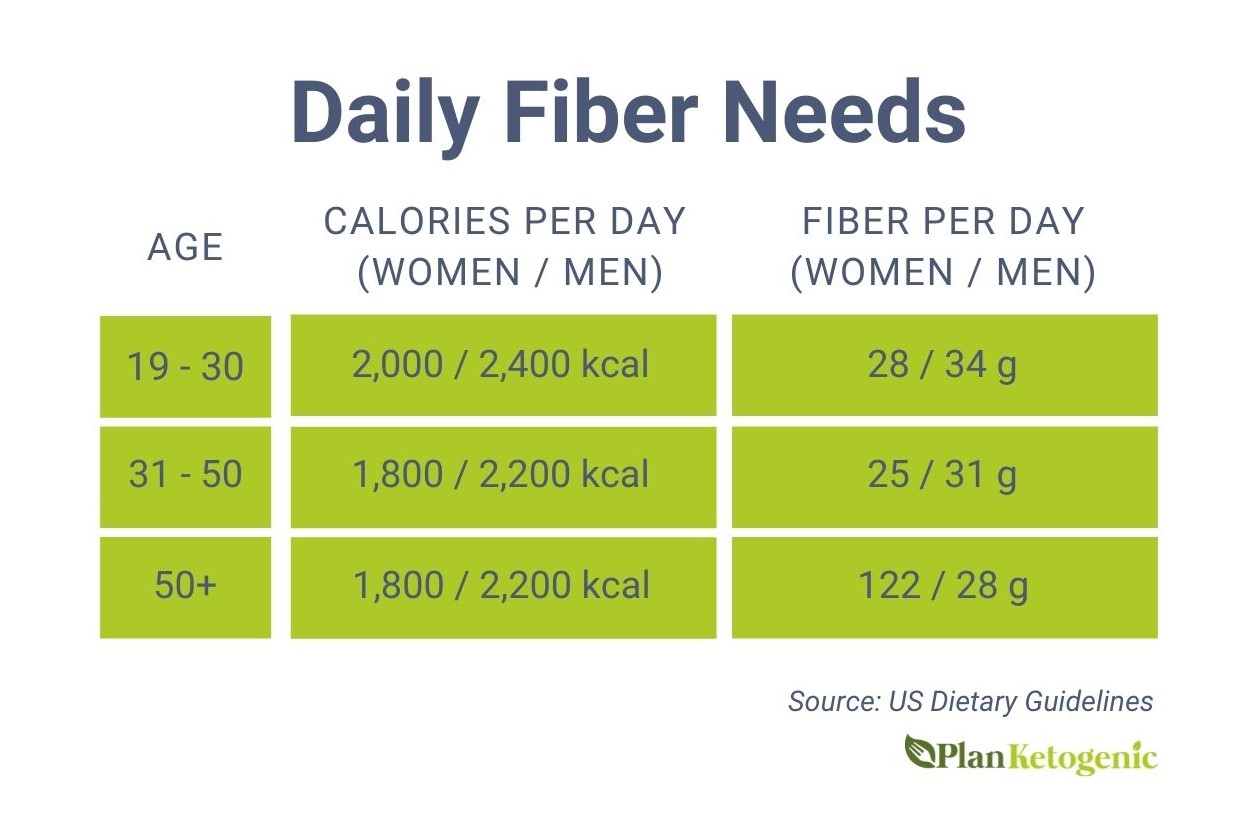 Keep in mind that your recommended intake of calories and macronutrients also depends on your body size, level of activity, and weight goals. Use a keto macros calculator to get your personalized results.
Tips on getting enough fiber on a ketogenic diet
Make it a habit to include at least one high-fiber ingredient in every meal. That could be raspberries and chia seeds in your breakfast yogurt or smoothie, spinach and endives in your salad, or eggplant and cauliflower in your dinner. For snacks, add a handful of almonds or pecans.
Switch to chia eggs for baked goods. Chia seeds work as a great egg substitute. Mix 1 tablespoon of seeds with 3 tablespoons of water, wait a few minutes, and it's ready to use in recipes.
Sprinkle flax meal or chia seeds over soups, salads, omelets, keto pancakes, smoothies, yogurt, etc.
Load up on vegetables. Instead of having one as a side, why not add a couple more and make a flavorful medley? Veggies are also rich in vitamins and minerals, and should be included in every meal.
Experiment with cauliflower. This fiber-dense vegetable is extremely versatile. Try making it into a pizza crust, mashing it like potatoes, using it as a meat substitute, or shredding it into rice using a cheese grater or food processor.
Add avocado. It goes well with just about everything (scrambled eggs, hummus, salads, soups, smoothies, burgers, salsas, and desserts, for starters!). It can even hold its own as the star ingredient (stuffed avocado boats, guacamole).
Go gradual. Fiber-rich foods can lead to increased bloating, cramping, and gas, so it's best to increase your intake little by little over a few weeks so that your body has time to adjust.
Drink water. It's important to pair fiber intake with plenty of fluids to help with constipation and avoid dehydration.
Why is fiber especially important for people on a keto diet?
Many common sources of fiber are eliminated or restricted on a low-carb plan, including grains, fruits, beans, and lentils.
This is why keto beginners often have problems going to the bathroom. You have to make a conscious effort to make up for the lost fiber with keto-friendly foods.
Dietary fiber is a carbohydrate, but it cannot be digested by the body. That's why we are able to subtract the amount of fiber from total carbohydrates in order to arrive at the number of net carbs.
Calculating net carbs is a daily activity for ketogenic eaters, so it is essential to be aware of how fiber factors into that equation.
Curious about going keto? Check out our complete guide to learn more.